User Acquisition Manager, User Experience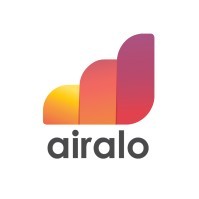 Airalo
Design
Canada
Posted on Tuesday, November 14, 2023
About Airalo
Alo! Airalo is the world's first eSIM store that helps people connect in over 200+ countries and regions across the globe. We are building the next digital service that revolutionizes the telecom industry. We are a travel-tech company and an equal-opportunity environment that values and executes diversity, inclusion, and equity. Our team is spread across 40+ countries and six continents. What glues us together is our commitment to changing the way you connect
.
About you
We hope that you care deeply about the quality of your work, the intrinsic worth of tasks, and the success of your team. You are self-disciplined and do not require micromanagement in terms of your skillset and work ethic. You do your best to flourish as an individual every day while working hard to foster a collaborative team environment. You believe in the importance of being — and staying — authentic, honest, positive, and kind. You are a good interlocutor with clear and concise communication. You are able to manage multiple projects, have an analytical mind, pay keen attention to detail, and love to get your hands dirty. You are cognizant, tolerant, and welcoming of vulnerabilities and cultural differences.
About the Role
Position: Full-time / Employee
Location: Remote-first
Benefits: Employee Stock Options, work-from-anywhere stipend, annual wellness & learning credits, annual all-expenses-paid company retreat in a gorgeous destination & other benefits
We are currently looking for a remote and full-time User Acquisition Manager to join the Airalo Growth team. Being one of the members of a lean team, you will have an opportunity to impact the overall growth of the organization. As an equal member of our team, you will also have employee stock options as part of your role.
You will be working on driving user acquisition strategy and execution on paid user acquisition channels (Search, Social, Programmatic, Display, and Video), as well as new and untapped channels or opportunities. You will be working alongside experienced team members on improving the north star metric and making sure that Airalo is on a proper path to revolutionize the way travelers think about global connectivity.
Responsibilities include but are not limited to:
Fulfilling the quarterly strategy by owning tactics, campaigns, initiatives, and experiments for user acquisition
Being creative and always thinking about unusual ways to grow and reach our OKRs
Increasing the number of app installs, sign-ups, and revenue on a weekly and monthly basis
Doing data analysis, user segmentation, and reporting
Campaign creation, optimization, and budget management
Unleashing your creativity to generate ideas for new campaigns and assets, in line with our brand book
Taking part in the whole growth experimentation cycle - from ideation through implementation and analysis
Constantly learning new tools and being on top of the new channels to master
Working closely with our Creative Designers on creatives
Being creative, authentic, eloquent, and accurate with conversion copywriting
Working closely with our Product and Support departments to gather insights from our users and suggest improvements
Must-haves:
Undergraduate degree in a related field
8+ years of experience in growth marketing (with a focus on user acquisition)
Proven track record of successful SEM, GDN & Facebook campaigns
Basic knowledge of partnerships and experience with working with influencers
Basic knowledge of ASO, SEO, CRO, and online video platforms
Understanding of digital marketing strategy
Experience in data analysis on different platforms (e.g. Google Analytics)
Experience in mobile analytics on different platforms (e.g. Firebase, Adjust)
Perfect verbal and written communication skills in English
Good to have:
Prior experience and training in neuromarketing
Prior experience and training in statistics and data analysis
Prior experience in mobile app marketing
Graduate degree in a related field
Certificates and courses in digital marketing and research methods
Prior work experience in telecommunications
Knowledge of eSIM and GSMA-related technologies and services
If you are interested in this position, please apply via the link.
We sincerely thank all applicants in advance for submitting their interest in this opportunity with Airalo.